SSL PACKAGES STARTING FROM
₹4,969

PER YEAR ONLY
Get a trusted SSL certificate
Get SHA-2 and 2,048-bit encryption – the strongest in the market
Boost your Google search ranking

Display HTTPs & padlock
SECURE YOUR WEBSITE TODAY
LET'S TALK ABOUT SSL BENEFITS
Protects confidential data
Trust is the cornerstone of SSL protocol and that means we adhere to strict validation guidelines. We've been on the Online Trust Alliance Honor Roll as SSL providers and diligently issue certificates that all browsers can trust.
Improves Customer trust
In addition to the HTTPS and lock icon, our SSLs also include McAfee SECURE. Clean websites can display the McAfee trustmark on every page to reassure visitors that your site is safe.
Strongest encryption
Our SSLs use SHA-2 and 2048-bit encryption to protect all sensitive data transmitting from the browser to the web server. It's the strongest encryption on the market today and it is virtually uncrackable..
Better Search Rankings
Google favors HTTPS-encrypted websites and will push them higher in search results. So a GoDaddy SSL not only protects your customers but helps you find more of them..
DID YOU KNOW?
Google recently Introduced HTTPs as a ranking signal using SSL encryption technology from Global sign will help your Google Rankings
Installation of SSL will secure site seal will increase customer confidence and reduce shopping cart abandonment.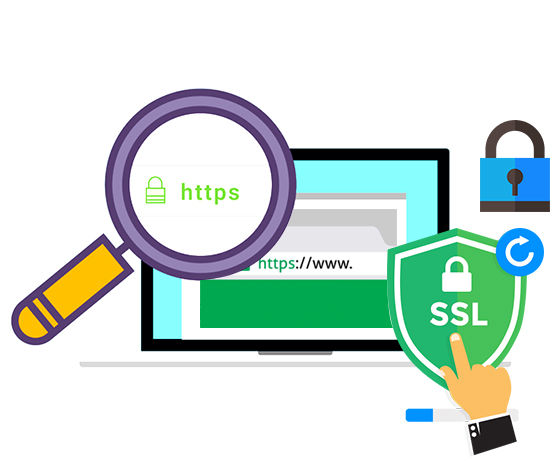 Facing problem in Installing SSL?
Correct installation of SSL is necessary to show your brand visibility on Google. You can face such kind of error "Your connection is not private".
Our team will fix the issues and you can access your website without showing any error.
Website Security
Get peace of mind with daily malware scans and guaranteed malware removal should any problems be detected.
Starting From ₹1,949 per month