The one revolutionary system that makes it possible is
This signature framework has helped hundreds of entrepreneurs know exactly, what is lifting them up or holding back.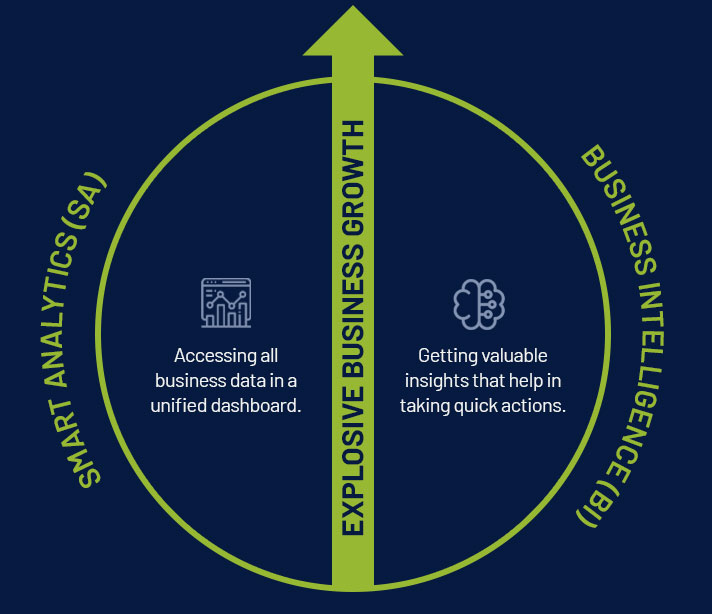 SMART ANALYTICS (SA)
Beyond presenting just random numbers, Smart Analytics presents data in unified dashboard with easy visualization.
BUSINESS INTELLIGENCE (BI)
After analyzing data, it reveals not just what happened and also how and why it happened. It also gives insights to take actions on.
Your business processes reveal quantum numbers and behind those numbers lie unprecedented competitive advantages just waiting to be found.
The dashboard built with SABi framework does just that. Implementing it in your business you would be able to fix the money-licking gaps, optimize the operations and chart an explosive Business Growth.
With SABi framework you would be able to
Install a fail-proof and data driven system in your company where every business operation remains transparent & accurate.
Move away from Excel reports, MIS & paper sheets and switch to an easy to understand unified dashboard accessible 24/7.
Make informed decision based on the customized information available on the dashboards in real-time.
Do fast course-correction based on the invaluable insights after adding a layer of business intelligence.
In a nutshell, it will help you gain holistic view of your business operations and chart an explosive growth based on facts rather than half-baked information and assumptions.
Security – Enterprise Grade Data Protection
We keep your data secure and meet your compliance requirements
Own Your Data
Your data belongs to you and is kept secure in the cloud. And all compliances are followed to secure it from hackers and outside attacks.
EU General Data Protection Regulation
We respect your privacy & help you understand your rights according to the General Data Protection Regulation.
Zero Moderation
No Big Brother is watching you means that no one has direct access to your databases.
Encrypted Transcations
Our system forces HTTPS using TLS (SSL), for all services, including our public website. Web connections to all services are via TLS 1.2 and above.
98.3% of our clients started getting amazing results within a month of plugging Smart Data Dashboard 2.0 in their business.
12%
Growth in Sales in Just 3 Months.
I was shell-shocked when Techginia's data analytics dashboard brought forth factors that were causing us lakhs of losses, every day! This system proved life-saver for us.
RAVIKANT CHOPRA
Co-Founder, Incremint
7%
Jump in Revenue in Just 2 Months.
Techginia's dashboards worked incredibly well for us. Not just that, Amit also helped us plug the money-draining gaps and find ways to generate more revenue without escalating cost.
VIPIN AGGARWAL
Co-Founder, Candes Technology
9%
More Conversion than Before.
Amit was quick to understand our unique challenges and could present viable & practical solution quickly. Team Techginia supported us all along the journey.
TARUN KUMAR
CEO, DataGardener.Com
OUR SMART DASHBOARD SYSTEM
CAN TRACK EVERY MINUTE DATA POINT
2CR+ PER MONTH
AVERAGE REVENUE SAVED PER CLIENTS DURING LAST FINANCIAL YEAR
OUR DASHBOARDS HAVE RECEIVED
FROM OUR 100+ CLIENTS
One System. A Million Benefits.
Get the freedom to run your business from Anywhere, Anytime
It will give you a competitive edge and also help you to…
Take Sharp and Swift Decisions
Have full clarity on what is happening & why. And then take course correction decisions quickly.
Knock-out Every Competition
Leverage the power of data insights to hook right customers and knock-out every competition.
Build Fail-proof Processes
Optimize your business process fully backed by the data insights available near real-time.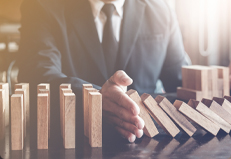 Gain Full Control on Business
Get holistic view of all your business processes 24/7 – from wherever you are.
Attain Total Peace of Mind
Become debt-free, make your business cash-rich and attain total peace of mind.
SABi Framework provides you…
A Cockpit View of Your Business
Smart Data Dashboard 2.0 works like a cockpit of your business where all vital information is available on-screen and on-demand. It is like seeing & running your business from 33,000 feet height.
Smart Data Dashboard 2.0 is…
Incredibly easy yet astonishingly powerful
Incredibly easy yet astonishingly powerful
Incredibly easy yet astonishingly powerful
Incredibly easy yet astonishingly powerful
Quick decision making dashboard for every business
We provide 10+ Dashboards to help you get
unimaginable insights of your business on-demand.