From identifying the core objectives to helping you gain total control of your business, the entire process involves Three core Steps.
Book an appointment
Discover why you need to automate your business processes
Identifying Data Use Case
Choose your most time taking and difficult task to start working on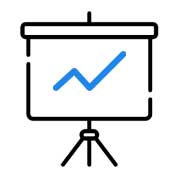 Grow your business with 10x growth
Enjoy the freedom of time and more profits using the power of workflow automation
Do you wish to replicate such successes?
Are you Ready to discover the growth hidden in your Business?
Amit's clients could solve their most complex challenges (which they thought are unsolvable) and literally multiplied their profits by plugging analytics dashboards developed by him.
He has penned numbers of such success stories, and he can help you become the NEXT big success story.
Schedule a 45-Min Discovery Call
Let Amit listen to your pressing business challenges and present the best way forward. This will be a heart-to-heart obligation-free call.
You will receive a Calendly link to check available slots to book on your email.
That one call with Amit was worth a million for me.
He solved my PPM challenge on phone only and later built a system that saved lakhs per month.
RAVIKANT CHOPRA
(Co-Founder, Incremint)
10 min into the call I could sense Amit is the man I am looking for.
He makes thing so simple, presents practical solutions and actually has ideas I have never thought before.
Jhon
(CTO, Well Care Group USA)
India's leading data analytics and business intelligence consultancy company
4th Floor, WeWork, Near 32 Milestone
Sector 15, Gurugram 122001 (India)
© Copyright 2023 TECHGINIA. All Rights Reserved. Powered by Animon Live.